The Gentleman Rancher 
| BY AMANDA MARQUART
|STEAMBOAT MAGAZINE SUMMER EDITION 2016 AGRICULTURAL FEATURE

Kent Sandstedt wears bloody knuckles and sunburn like o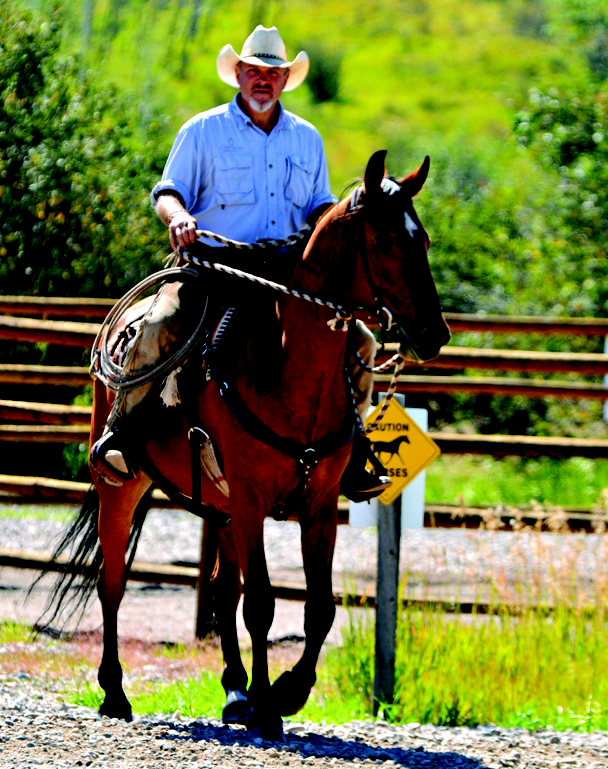 ther men wear a necktie and Rolex. They are two markers of a serious businessman
in his world of ranch management.
Part owner of Steamboat Springs-based CR Summit, Sandstedt manages local ranches with the team of wranglers and laborers he leads and works alongside. He spends his days balancing planning and economics with hands-on labor, which may remove any romantic notion people have of ranch life. 
"Being a good steward of the land, as well as for your animals, is paramount. Otherwise, you shouldn't be in the business," he says.
Sandstedt experienced rural life growing up in Illinois and Texas. His farming and ranching roots run deep on both sides. He rodeoed while at Texas Christian University, where he was a marketing and finance major before embarking on a successful career in commercial real estate. 
After raising three kids, Sandstedt and his wife, Aileen, moved to Steamboat in 2005 from Illinois, where they co-own a 210-acre corn and soybean farm with his father, brother and cousin. He calls that farm a "proving ground" for the life he leads today. It's where his kids learned the ins-and-outs of farming, together with a strong work ethic. Family members all had the chance to learn horsemanship, roping and bull riding. 
Sandstedt views ranching as a life choice. In 2005, he and Aileen started Steamboat-based CR Summit. The business entails horse ownership, training and riding instruction programs that he and Aileen co-lead with staff. Sandstedt also heads a ranch advisory and management services business.
"It's not a 9-to-5 job, but a way of life," he says. A century ago, agricultural life was dominant in Routt County and inheriting the family farm was the norm. Farmers were considered a success if they could feed the family and turn a profit. Today that life is rapidly declining. According to the local Community Agriculture Alliance, in 1980, 192 families had grain farms in Routt County, in excess of 3,000 acres. Today that number has dwindled to five.
Sandstedt manages 13 properties, ranging from individually owned rural homesteads and 35-acre ranchettes to the near 3,000-acre Creek Ranch, where he and Aileen have their home, and where CR Summit's horsemanship training and riding facility is located.
No day is typical. Sandstedt has his hands in the dirt, whether it's mowing, fencing, irrigating, spraying weeds, training horses or working cattle. Besides that there is a laundry list of other issues a modern rancher deals with: aerial photos, chemicals, equipment, vaccines, insurance, fence law, contract farming, livestock presales, video sales, no-till farming, government agency support, state and federal legislation, conservation practices, natural resource mining, sustainability – the list goes on. "It's not just Henry Hillbilly breaking fingernails," Sandstedt says. "We look like that, but there's more to it. It is a business because I've got to go the bank with my business plan and beg for $100,000 just for cattle," he says. There is also the agriculture-related continuing education he's constantly engaged in. 
Water is possibly the most pressing and crucial issue facing Yampa Valley ranchers and farmers. "It's a real political hot potato right now with the Front Range growing at an exponential rate and needing water," Sandstedt says. "If somebody else controls this water that we're enjoying from the Yampa River, from our snowpack, from the Green River basin, from the Yampa basin – we're done, there is no agriculture." He advises anyone in this area, whether they're in agriculture or not, to make water rights and water planning part of their punch list when they're talking to a politician or monitoring what their government representatives are doing. 
"If you've got a dam, pond, irrigation ditch or water rights, water regulators in Northwest Colorado know you. They want to know what your flows are, you've got to report this stuff – you've got to use it or lose it. If there's a water call downstream, you're going to lose it. You're in a desert right here when the snowpack dries up," he says. Sandstedt attends meetings on the Yampa-White-Green Basin Water Plan. He's there to represent ranchers' interests, take notes, see colleagues and speak up if need be.
Beyond concerns of money, politics and totally out-of-our-control things including weather, oil prices and international trade treaties, 58-year-old Sandstedt has to worry about time's effect on one of his most valuable assets – his body. "We don't get sick – we break shoulders, we fix knees," he says. The range doubles as health club and office. 
Despite the physical injuries, mental rigor and hardcore stress of this life, Sandstedt sees no end to his tasks in sight and likes it that way. "When my dad comes to visit, he slaps me on the head and says, 'As you're getting older, it's supposed to get easier. That's why I worked to get away from it,'" Sandstedt says. He reassures his father that he loves what he's doing, then hands him a shovel and tool belt, and they work together. "It rekindles what we grew up with. His advice is priceless," he says.
Sandstedt is a man who shakes hands with his cowboy hat in hand, calls a lady ma'am and never forgets that cowboy etiquette goes as far as hard work. Sandstedt is proof that the romantic notion of a cowboy exists, and they do what they do for the love of the job.